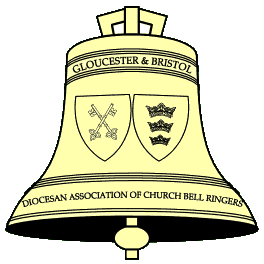 Cheltenham Branch of the G&B
Part of the Gloucester & Bristol D. A. C. B. R.
Aims and Objectives
From the Association Annual Report:
To promote the ringing of bells for Divine Service.
To practise ringing to obtain a higher standard of ringing.
To educate the public in the art and science of change ringing.
"Make Cheltenham Branch the envy of others in the Association"
Mike Clifford as outgoing joint ringing master, 2003.
| | | |
| --- | --- | --- |
| | These logos should be replaced by pictures of branch activities and locations. If they are not, you will need a more recent version of your web browser. | |
See the photo wall.
Next Event
| | |
| --- | --- |
| | For more details on events, see the programme. |
What's New?

June 2016

February 2016

January 2016

September 2015

Ringing Links

Further links may be found in the Tower Listing

Local Activities
This Branch is a division of the Gloucester & Bristol D. A. C. B. R. (Rule 15.i), and as part of the Association it is therefore covered by Registered Charity number 281431.